The beauty of being a Custom Home Builder is that our menu of options increases with every client's "Wish List". We not only embrace these requests but also have featured some of them in our Model Homes.
Below you'll find a list of our latest upgrade requests. Which ones would you like to add to your Wish List?
Attic/ Whole House
Full spray foam encapsulation: whether it be 100 or 30 degrees outside, going into your attic doesn't have to be a dreaded seasonal chore. Fully encapsulating the attic makes your home more energy efficient, gives you more storage space, and protects your cooling and heating system from the blasting heat.
Wine/ Bourbon tasting room: no matter your drink of choice, having an area where you can display your collection or share your favorite bottle with friends, these designated areas are getting our homeowners attention.
Storage lift: usually installed in the garage, this storage lift system safely lifts your storage items up to the attic and lowers them back down to the floor level when needed. It eliminates the time consuming, dangerous task of lifting or pushing items up and down your pull-down attic stairway.
Home automation system: Imagine being able to control most components of your home from your phone, no matter where you are. Lights on and off? Check! Open and close the door remotely? Yes! Gone on vacation and forgot to change the setting on your AC? No problem! With a home automation system, accessing your home can literally be at the touch your fingertips.
Kitchen
Under counter filtered water dispenser or Whole House water filter: Improve the taste, the quality and reduce harmful contaminants from your drinking water.
Large (or even a double) kitchen island: The kitchen is the center of the action in most houses. And our Homeowners list many of the benefits a large island brings: casual seating, more storage and extra workspace to name a few. Whether you use it for a gathering of friends or to gather up ingredients a large island is one of the most popular requests nowadays.
Large pantries: Clutter-free is in! By adding a countertop to your pantry, your kitchen has a better chance of looking like the one you fell in love with at the Model Home. You can still access the small appliances you use every day like the toaster and coffee maker but without having that mess visible. Bonus that if you close the door, your whole house doesn't end up smelling like the food you have in your Instapot.
Prep kitchen: If a large pantry has become the standard amenity, we're starting to see an increase in requests for a prep kitchen by adding a second dishwasher, sink and even a refrigerator to the pantry. For our homeowners who enjoy entertaining a large number of people, having the ability to have the food prepped behind close doors is one of those dream items on the list.
Bathrooms
Electric Towel warmers: complete the comfort and convenience of your spa-like bathroom by adding the luxury of freshly warm towels.
Laundry Room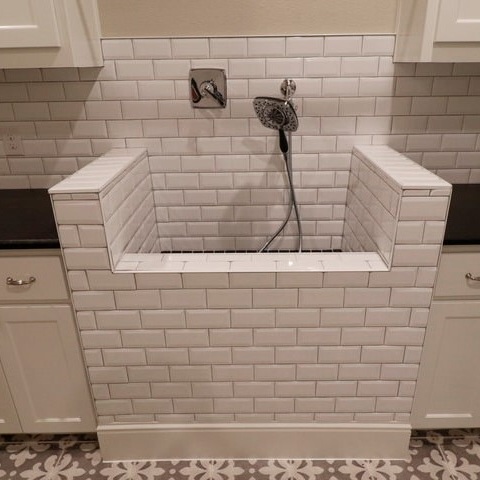 Dog washing station: Many of our clients are opting to adding a dog-washing station in the laundry room for when Fido gets muddy. You get a clean dog without leaving the house or risking a backache.
Patio
Outdoor Living Area: Considering how many mild weather days we have in N. Texas, more and more homeowners are increasing the square footage of their patios and turning them into another living area. Popular layouts include room for seating area, dining and cooking station.
Automatic drop down shade screens: As seen in our Colleyville Model Home, these automated drop-down shades can decrease the amount of sunlight in your porch – perfect for west-facing homes- and keep the bugs out so you can enjoy your dinner al fresco. This feature works best if decided before framing stage.
As you can see the possibilities are endless when you build a Providential Custom Home. Call us today at 817-724-7777 and let's discuss your Wish List!